If your planned bathroom remodeling project involves more than just painting the walls and replacing the mirror, you need to call the pros! A bathroom renovation is often more difficult than many homeowners realize, and even a minor mistake or oversight can lead to future plumbing disasters.
When does a homeowner need to hire professional bathroom remodeling contractors for a renovation project? Call a contractor if a home has old pipes and plumbing fixtures, if you'll be adding larger bathroom fixtures of any sort, and if your renovation project includes new shower and floor tiles and new countertops over the sinks.
There are many other reasons why a homeowner should consider using a professional renovation expert when tackling their home's bathroom, and relying on the services of a renovation expert will ensure that their bathroom remodel ends up exactly as expected, if not even more beautiful and functional! Check out some added reasons why you don't want to "go it alone" when considering a home renovation of any sort, but especially a bathroom renovation project.
A Bathroom Renovation Needs a Skilled Contractor
A bathroom renovation or redo of any sort might require new plumbing behind the walls and under the floors; upgraded or larger fixtures and features in the bath might need a different plumbing layout, for example. A bathroom remodel also allows a contractor the opportunity to examine existing plumbing pipes for worn connectors, rust, and the like, and then quickly replace those pipes while the bathroom is torn up for the renovation.
While installing floor and shower tiles might seem like a simple job, improper tiling techniques can allow flooring and walls to come loose from their adhesive. Water can then seep under and behind the tiles, resulting in damage to drywall and the home's wood framework and future mold growth. Poor tiling techniques can also result in crooked lines of tile or tiles that run unevenly against the bathroom walls, for a very unsightly space look.
Installing new bathroom fixtures also requires the skill and know-how of an experienced contractor. For example, a specialty wax ring is placed under a new commode, to provide a waterproof seal around its base. Added bracing of the home's subfloor will more safely manage the extra weight of new, larger bathtubs or heavy stone tiles. A contractor will ensure no details, no matter how minor, are overlooked during a renovation!
Why Work With a Design Team for a Bathroom Redo
Browsing through magazines and online photos is not enough for a homeowner to find the best style for their new bath! Check out some reasons why it's good to work with an actual designer or design team when you're planning a bathroom renovation:
Designers understand common mistakes made by homeowners in changing the appearance of a bathroom. For instance, opting for too many dark surface materials will create a cave-like appearance. Not considering adequate overhead lighting will result in a dark shower area as well as struggling to see yourself in the mirror for shaving, makeup application, and so on.
A designer can also ensure that no fixtures or features cut off the flow of foot traffic in the bathroom.  As an example, a new, oversized vanity might offer lots of storage, but that new piece might also get in the way of the shower or even of the bathroom door itself!
Lack of adequate storage is a common problem for bathrooms, and a designer can note many ways to add useful, accessible storage features in a bathroom, even without expanding its overall footprint. These options might include knocking back a wall to create built-in shelving, adding a row of shelves along the upper part of a wall, and incorporating extra towel bars and hooks into a design, so you have room for all your linens without creating a cluttered look.
A designer can assist with choosing new windows for the bathroom, to bring in added natural light and to create a cozy view for when you're relaxing in the tub! Added windows are an excellent choice for any space, but especially a dark or small bathroom remodel.
Designers also know how to bring a touch of glamour and elegance to a bathroom so that it's extra inviting. He or she might recommend shower curtains that look and feel like actual window curtains, a fun or elegant paint combination, or specialty sink styles that will make your bathroom as beautiful as it is functional.
You Need the Help and Advice of Renovation Pros
A renovation contractor does much more than rip out old bathroom fixtures and install new features and surfaces. Their help and advice can be invaluable in creating a bathroom space you'll love. For example, our bathroom remodeling contractors in Kansas City can explain the differences in various floor and shower tiles, noting which materials are more durable and which feel more comfortable underfoot or that will look better with your chosen light fixture. In turn, you can more readily opt for the best type of tile for your project.
A bathroom renovation specialist can note ways to cut down or reduce your bathroom remodel cost without sacrificing quality materials or the look you desire. They might have suggestions for close-out fixtures and materials that are more affordable than other bathroom pieces and tiles, or might suggest adding tile or stone over the bathroom's current surfaces, to avoid the cost of a full tear-out. A renovation contractor can also caution you about cutting costs with materials that are likely to fall apart before long, such as builder's grade cabinetry and low-quality flooring.
As with a designer, a renovation expert can also suggest features and bathroom remodel ideas you had not considered initially. For example, radiant heating, meaning heating coils that run under the floor, can make stepping out of the shower on chilly winter mornings much more comfortable. A contractor might also notice water seepage behind walls and suggest added ventilation or specialty materials such as drywall and tile that are particularly watertight, to help avoid additional water damage.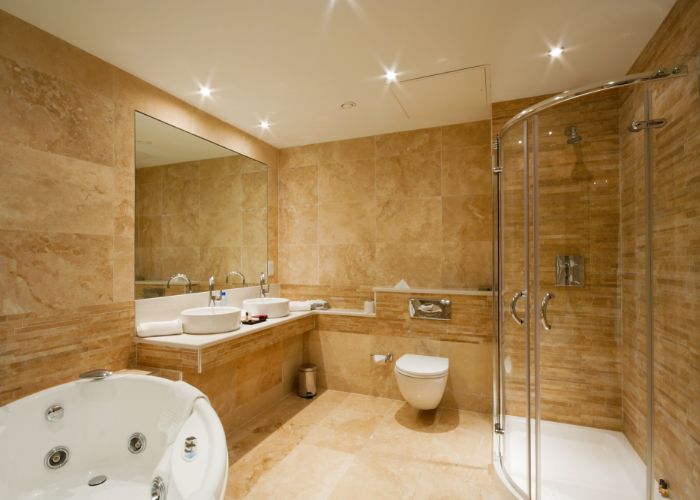 Best Remodeling Trends to Consider
A designer and bathroom contractor can alert you to today's hottest remodeling trends, so you know which features to add to your bathroom! Check out the best bathroom remodeling trends you might discuss with your contractor and which ones they might recommend for your space:
Metallic tiles and surfaces are a fun trend to consider for any bathroom, but especially for a small bathroom remodel. Metallic elements bring a modern style to a bath while also reflecting light, making a bathroom seem bigger and brighter.
Customized storage provides space for all your needs in particular. For instance, if you have lots of hair styling tools, a builder might create a cabinet to keep those items organized and at your fingertips. If you keep cleaning products in the bathroom, a customized cabinet will also keep those products neat and tidy yet away from personal care items.
Actual furniture pieces bring warmth and personality to a bathroom. A dresser might work as a vanity over the sink, and an armoire might be brought in to the bath, to hold your linens and other such items.
Adding media and music allows you to soak in the tub while enjoying a movie or your favorite tunes, or to catch up on the news while getting ready in the morning.
Deluxe showers are not just for the rich and famous! A rainwater showerhead can be an excellent option for taller homeowners, while multiple showerheads help you to relax. Water temperature controllers and a built-in bench also add to your comfort in the shower.
Statement lighting is another hot trend for today's bathrooms, and oversized light fixtures or those that wrap around a mirror over the sink can make for easier grooming while also creating a welcoming look in the bath.
An electric or smokeless fireplace adds a touch of warmth and elegance to any bathroom and helps you relax and unwind at the end of the day.
What to Avoid When Renovating a Bathroom
While your home is yours to renovate in any way you choose, you might note some common mistakes that many homeowners make during a bathroom remodel, and a few tips on what to avoid during your project as well.
Be cautious about overdoing it with a theme when considering bathroom remodel ideas. A coastal theme can be a great touch for any bath, as an example, but painted seashells on all the tiles in the room, along with seashells as cabinet door handles and other decorations can be very overwhelming!
In the same way, a touch of a bold color such as red or orange can make a bathroom unique, but too much of any color can get tiring. Be balanced about bringing in these details when renovating your home's bathroom.
Never use any materials other than those meant for the bathroom when painting, installing tile, and the like. Tiles designed for the bathroom are very watertight, and bathroom paint also helps to repel humidity. Incorrect materials, adhesives, and other such details can result in water damage to the home, loose tiles, and other such design disasters.
Don't budget down to the penny! Just about any bathroom remodel project will have unexpected expenses, including needed repair of a home's subfloor or wall studs, wiring, and plumbing pieces. Be sure to set aside 5%, 10%, or even more of your budget for these surprises so you know you can address them while keeping your renovation on schedule.
Related Questions
Does a bathroom renovation add value to a home?
Renovating a bathroom might result in increased property values; however, don't assume that your home's value will increase to the same amount as your overall bathroom remodel cost. A local realtor can assist in determining how much return you might see from a renovation project.
How often should you remodel your home's bathroom?
The more wear and tear a bathroom suffers, the sooner you'll need to plan for bathroom remodeling. Low-quality materials will also need replacing sooner than high-quality fixtures and features. Remodel your home's bathroom when it's showing signs of wear, so it's always functional and attractive.