What is a kitchen remodel? For homeowners with an outdated kitchen that's lost its appeal, this is a very important topic! A kitchen remodel, full-scale tear-out and renovation, or simple "facelift" can mean having a kitchen space that is not only functional but also inviting and welcoming, and enjoyable to use.
A standard kitchen remodels typically includes replacing cabinetry, countertops, and flooring. Depending on a homeowner's needs, a remodel might also include a new sink and faucet, updated appliances and lighting, and special features such as a center island and built-in shelving.
Kitchen renovations are typically the most popular yet costly changes a homeowner might make to a house, but one that also increases property values the most! Since the kitchen is probably used by every family member every day, a kitchen renovation can also mean the most value in terms of daily convenience.
Before you go another year without a much-needed kitchen renovation in your home, check out 10 vital aspects of kitchen remodeling you need to know. You can then discuss your options with a renovation contractor near you, and soon be enjoying that beautiful, upscale kitchen you've always wanted!
1. What Does a Kitchen Remodel Consist of?
In most cases, a renovation contractor will plan your kitchen remodel around your needs and budget, working with you to decide what items can stay and what needs replacing. For most homeowners, kitchen remodels include:
Removing and replacing cabinetry, either with custom cabinets built to your specifications or prefabricated cabinets.

Removing and replacing countertops and flooring.

The installation of a new sink and faucet, or just the faucet if the sink itself is in good condition.

Installing upgraded appliances.

Installing a new overhead light fixture and even wiring in new recessed lighting.

Removing and replacing the center island or rehabbing the existing island as needed, such as with a new countertop and fresh coat of paint.
Finishing touches in a kitchen remodel might also include new paint on the walls, new window treatments, built-in shelving, and new garbage disposal. If you have the budget, you might also request added storage features inside cabinetry such as roll-out drawers and pocket shelving!
A homeowner should also note that a kitchen remodel might also require updated wiring and plumbing features. For example, if your new appliances require more power to operate, your home might need new wiring to the kitchen to accommodate those demands.
2. What Is the Average Cost of a Kitchen Remodel?
In most cases, a homeowner might expect to pay around $20,000 for a larger kitchen renovation, and somewhere near $12,000 for a smaller space. A full-scale tear-out, removing all the appliances, flooring, and even walls, might cost $40,000 to $50,000, on average.
Your kitchen remodeling costs will depend on the price of new items chosen for the renovation, including cabinetry and appliances. High-end materials, such as marble countertops and stone floors, also add to those costs significantly.
Reworking the footprint of the room so that you can relocate appliances typically requires rerouting plumbing and electrical features, which means more labor and higher kitchen remodeling costs! Your kitchen might also need structural repairs or other prep work, depending on your choices; for instance, the home's subflooring might need added bracing to accommodate heavy stone floors.
3. Is It Worth It to Remodel a Kitchen?
On average, homeowners who spend over $100,000 on a kitchen renovation might see a 55% return on their investment, meaning their home's value increases $55,000 for every $100,000 spent. For smaller projects in the $20,000 range, the return is even higher, often averaging around 70% or more!
If you might put your home on the real estate market, remember that potential buyers value updated kitchens and are willing to pay more money for homes with gorgeous kitchens! It's estimated that 80% of homebuyers put the kitchen in the top 3 most important spaces to consider when shopping for a new home. Homebuyers also state that they're willing to pay a bit more for an updated kitchen with new appliances, granite countertops, modern cabinetry, and the like.
Questions to Help You Decide if a Kitchen Remodel is Worth it
The homeowner should also consider their return on investment in terms of convenience for themselves and their family. If you're still "on the fence" about a kitchen remodel, consider:
Is your kitchen drab or downright ugly, so that you dread cooking and food prep?

Would a larger kitchen make it easier for two or more people to use the space at once, so everyone can help out with cooking and cleanup?

Are your kitchen cupboards constantly overflowing with items for which you never seem to have enough room?

Would you love to entertain more often but don't want guests to see the kitchen, or find it's simply too small to cook for friends and family?

Would you prefer a kitchen that opens up into an adjoining living space, so you don't feel cut off from the family while cooking or cleaning?

Do you find you spend too much time walking back and forth in your oversized kitchen, constantly bringing foodstuffs and utensils from one side of the space to another?
If you answered "yes" to any of these questions, a kitchen remodel is definitely worth it for you! An updated kitchen with a new layout can accommodate a crowd while offering a welcoming look you'll love. New cabinetry with built-in organizers, located where they're needed, will also make storage a breeze.
While a kitchen remodel can open up a space, provide room for entertaining, or keep you connected to an adjoining family room, your renovation plans can also address an oversized kitchen. A new half-wall might hide dirty dishes while you entertain in the next room, or you might convert wasted space into a pantry or open it up to an adjoining room where it's needed!
4. What is the Most Expensive Part of a Kitchen Remodel?
Once homeowners get their quote for a kitchen renovation, they might wonder how they can trim some of those costs. While your kitchen renovation contractor can help you rework your plans, it's also helpful to know the most expensive part of a kitchen remodel so you know where you might start making some changes.
Kitchen cabinets are typically the most expensive part of any remodel, averaging around $15,000.
New appliances typically come in second place; on average, new appliances might fall within the $7500 to $8500 range.
Countertops are often the third most expensive item in a kitchen renovation, usually costing around $5000 to $6000.
Note, too, that repairs and prep work are also some of the most expensive items in a kitchen remodel, but these should never be cut from your budget. Neglecting to brace up a subfloor, for instance, can mean cracked and sagging floors, while outdated plumbing and electrical fixtures increase the risk of clogged pipes and electrical shorts.
How can you save money on a kitchen remodel?
Your contractor's labor charges also add to your overall kitchen renovation costs. While you never want to try renovation work outside your area of expertise, discuss with your contractor ways to trim their labor costs; for example:
Consider if you can remove appliances yourself; if you cannot resell them, a charity resale shop might remove them and give you a receipt for their value, to use as a tax deduction.

A homeowner can often pull up tile floors; a box cutter allows you to cut through grout and adhesive, and a heavy-duty scraper makes quick work of pulling up the tiles.

Painting the walls yourself can mean saving several hundred dollars!

If your kitchen renovation plans include removing a wall, ask your contractor if it's load-bearing or has electrical and plumbing fixtures behind it. If not, you can probably use a sledgehammer and pry bar and remove that wall yourself.
Scaling back the cost of some materials also means saving hundreds if not thousands of dollars! If you love the look of stone floors, for example, consider poured concrete instead. Concrete can be stained and stamped to resemble stone pieces, for far less cost.
What not to give up in a kitchen remodel!
No matter the cost, there are some things you don't want to give up when planning a kitchen remodel! One vital tip is that you don't want to sacrifice quality for cost, especially when it comes to countertops and flooring. A kitchen floor sees lots of foot traffic every day, so tiles should be dense, durable, and easy to clean; your counters should also be durable and stain-resistant.
A homeowner should also ensure their kitchen has lots of light, as bright lighting makes the space seem more welcoming and even cleaner. Adequate lighting is also needed for safety, to ensure you can see properly when handling knives and other kitchen tools and utensils.
5. What Should You Not Do in a Kitchen Remodel?
 Along with not giving up quality or adequate lighting, a homeowner might also consider a few additional mistakes to avoid during a kitchen renovation plan:
Never fail to consider your everyday workflow and foot traffic! Ensure the sink, refrigerator, and stove are located close to each other and that there are no obstructions between them, such as an oversized island.

Don't skimp on storage, and especially storage needed for specialty items such as oversized pet food bags, recycling bins, and cleaning supplies.

While you want lots of cabinetry and storage in the kitchen, you also don't want the space to seem cramped and claustrophobic. Keep some open areas and shelves around the sink or elsewhere, so space offers a welcoming, airy feeling.

When choosing your cabinetry and surfaces, make sure you compare all those surfaces together rather than selecting them individually! You might love a dark floor tile and cabinetry, for instance, but too many dark colors can look muddy when installed next to each other.
When Remodeling A Kitchen, What Comes First?
Renovating a kitchen in the right order ensures you don't overlook any details and can fix needed issues along the way. For a full-scale renovation:
Start with a full tear-out of flooring and walls; if you're managing this work yourself, ensure you avoid electrical wires and plumbing pipes and have a dumpster on hand for debris.

Next, you'll want to rough-in your framing, plumbing, and wiring.

If you've made structural changes or have added wiring and plumbing, you might need to arrange a professional inspection before you continue.

After inspection, finish the walls and paint them as needed.

Once the walls are finished, install the cabinets and then the appliances.

Flooring is your last step in your new kitchen renovation, as well as new lighting and other special features.
7. What Should You Pick First During a Kitchen Remodel?
Many homeowners choose their cabinetry first when planning a kitchen remodel, but this can be a mistake! You don't want to order all that beautiful cabinetry only to find that you're left with a mere 24" for your stove.
Instead, choose your new appliances first and ensure you've measured their width, depth, and needed clearance for doors. Once you've decided on the appliances, you can then choose cabinetry, working them around your new stove and refrigerator and ensuring they offer the storage you need without creating a cramped space.
8. Can You Remodel a Kitchen Yourself?
A full-scale kitchen renovation should always be left to a qualified contractor, as he or she will ensure the work passes inspection and that they've made all needed repairs and upgrades. A contractor is also experienced in taking precise measurements, so you know your new cabinets and appliances will fit!
If you do want to remodel a kitchen yourself, consider refinishing cabinet fronts and doors rather than replacing them altogether, and invest in countertop laminates that fit over existing counters. Peel-and-stick flooring is also easy to apply over the current tile, so you don't need to tear out the flooring and try to manage grout and adhesives for new tiles.
9. How Often Should You Remodel a Kitchen?
Most homeowners should consider a new kitchen renovation every 7 to 15 years. Your kitchen renovation will typically last longer if there are fewer people in the home, meaning the kitchen sees less wear and tear every day!
However, busy families or anyone who entertains often might find that flooring, counters, and other surfaces wear away far sooner in their home. In that case, consider a renovation or at least a kitchen update every 7 to 10 years at most.
10. Should You Buy a Home That Needs a Kitchen Remodel?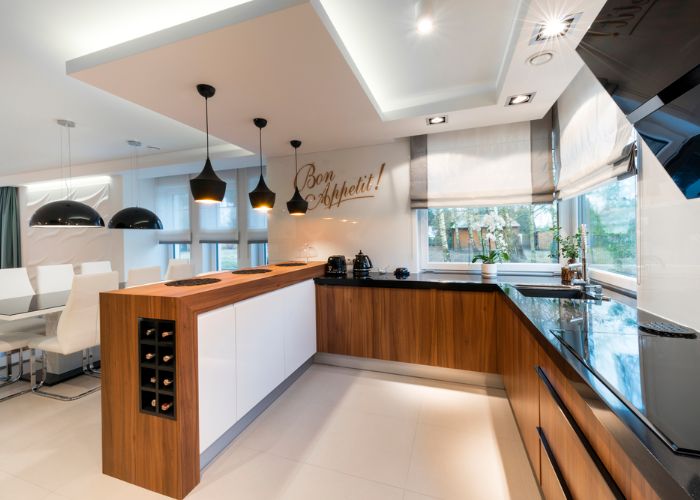 Since kitchen remodels will typically cost several thousand dollars and take weeks to complete, it's vital that you consider carefully purchasing a home that needs a new kitchen! However, this doesn't mean that a home with an outdated kitchen is always a poor choice for you.
Consider if the seller has adjusted their asking price to compensate for the work and expense of updating the kitchen. As an example, if the home is priced $30,000 below comparable properties, and you know it might cost $20,000 to update the kitchen, having to go through the hassle of a remodel might be worth that remaining $10,000 you'll save on your purchase price.
As another example, if the home offers everything else you need and is in a desirable location, investing in a new kitchen, in that case, might also be worth your cost and hassle. A home with an updated kitchen but in a location that adds an hour to your commute every day might not be the best long-term choice; you can always update the kitchen but can typically do nothing about that long daily drive!  
Keep all these points in mind when asking, "What is a kitchen remodel?" Knowing what to include in a kitchen renovation, average renovation costs, and if a remodel is worth it can mean making the best decision for your home and family!
A Word from Our Kitchen Remodeling Team in Kansas City
In conclusion, our team at Kansas City Kitchen Remodeling would like to take a minute and thank you for reading our article. It was put together in collaboration with our professional kitchen contractors. When you are thinking about renovating or remodeling your kitchen there are so many aspects to consider. We hope we've provided you with greater insight in order to make the decision to update your kitchen or to choose a kitchen remodeling project in the near future.