Your home's kitchen design should be both functional and beautiful, and work for your needs in particular. Today's trends in kitchen layouts and styles reflect the growing and changing needs of homeowners and families, while still offering breathtaking spaces where you can do more than cook! If you're looking for inspiration for your home, check out these trends in today's kitchens, and ask your designer or contractor to work these trends into your plans for a new kitchen.
1. Multipurpose islands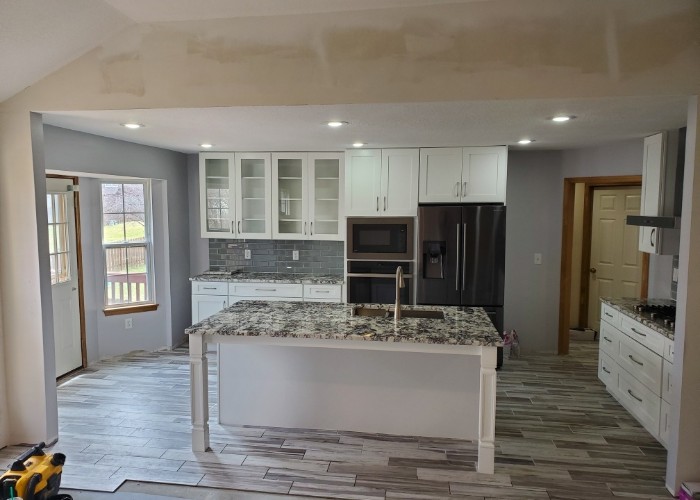 Gone are the days when a kitchen island served only as a secondary countertop and offered nothing more than a few cabinets for storage. Today's multipurpose islands may incorporate a separate cooler, perfect for storing snacks and drinks for the kids, or for keeping wine and craft beers at just the right temperature.
Other ideas for appliances you might incorporate into a kitchen island include a trash compactor, secondary oven, compact dishwasher, or plate warmer. An elegant quartz countertop and room for seating makes your new island a perfect spot for entertaining guests or enjoying a casual glass of wine before heading out!
2. Pet-friendly zones
A pet-friendly zone built into your kitchen makes it much easier to care for your four-legged friend. Today's pet-friendly kitchens might feature an added ledge or lip off an end cabinet, to serve as a tidy feeding station. Elevating this ledge makes it easier for large dogs to reach their food dish without straining their neck or front legs.
Built-in storage can also be added to a pet-friendly kitchen, with bins to hold bulk dry food and small shelving to organize tins of wet food. Hooks inside a cabinet door keep leashes and collars coordinated and also ensure they don't get lost when not in use, while also storing your dog's medication at your fingertips.
3. Coffee bars
If you love coffee, include a coffee bar in your new kitchen cabinet design. A coffee bar is a specialty cabinet that is designed specifically for coffee-making appliances, including an espresso machine, standard coffeepot, and the like. Built-in, specialty shelving in this cabinet also provides storage for a coffee grinder and all the other tools needed for brewing your favorite cup, as well as extra bins to store beans and flavoring.
A coffee bar can include a separate cooler, built into the lower cabinet areas. This separate cooler can hold your specialty creamers so they're close at hand, and might also have a freezer section for the ice needed for iced coffee drinks, or the ice cream you might use for coffee-flavored desserts!
4. Upgraded appliances
Today's kitchen design ideas come complete with upgraded, smart appliances that make cooking and food storage easier overall. Steam ovens are a viral new trend in kitchen appliances. A steam oven will cook food faster than a conventional oven while locking in juices and flavors. Your food is then cooked more quickly and also tastes better once it reaches the table! Convection ovens, which have two heating elements and a fan to circulate heat, also cook food faster, and these are another hot trend in today's kitchen designs.
Smart appliances can also make cooking and even food storage easier for you. A smart refrigerator can note the expiration dates of certain foods and alert you to something that needs replacing. Smart ovens can sense the temperature of foods and shut themselves off automatically. You then waste less food by letting it spoil or overcook when you invest in smart appliances!
5. Small kitchen design
The size of kitchens has grown over the decades, to accommodate an eat-in dining or breakfast area and to provide storage for foods bought in bulk. Oversized, professional appliances also made home-cooked meals easier to prepare while separate nooks with desks and plugs allowed for making phone calls, working on the computer, and so on.
Today, however, homes often feature a downsized kitchen with smaller appliances and less space for storage. With more and more adults working outside the home, more parents and couples are relying on pre-cooked dishes and meals that they can pick up from the local supermarket on the way home from the office. Homeowners may also be concerned about the cost of purchasing and maintaining a larger house in general, and cutting a few square feet from the kitchen can mean a smaller house and more affordable utility bills overall.
6. Built-in, customized storage
Built-in storage customized to your needs can ensure that you're making the most of every square inch of space in your new kitchen. Today's trends in storage also go beyond added hooks and interior shelves, to make a kitchen more usable overall.
For example, today's trends for built-in, customized storage can include upper shelves that are attached to hinged arms. These arms allow you to slide out those shelves and then pull them down toward you, for easy access. Deep drawers might replace lower cabinets, allowing you to open them fully and then reach all your pots and pans. An appliance garage can also store away unsightly small appliances while keeping them close at hand and very convenient.
7. Reusing and recycling items
Many homeowners today are concerned with how their design and purchasing decisions affect the environment and prefer to avoid harvesting mature trees, stone, and other such materials when possible. Reusing and recycling items, or opting for easily sourced materials, for kitchen features and surfaces has then become a hot trend in today's kitchen ideas.
A few examples of reusing and recycling items is to use reclaimed wood for a butcher-block countertop, or recycled tile to create a mosaic backsplash. Glass and concrete contain easily sourced raw materials, and both work very well as countertop materials. Reclaimed stainless steel can also be cut and fit over counters, and is an excellent choice for a backsplash as well.
8. Color
White has always been a favorite paint and cabinet color for kitchens, as white evokes a sense of cleanliness and makes a space light and bright. However, white can also become a bit bland and sterile, and may create a space without personality or style! Today's kitchen trends include either subtle shades of warm color tones or a few pops of bright, fun colors that add character to the space.
Soft shades of grey, sandy beige, and hunter green are trendy for kitchen tiles and cabinets, as these colors add a bit of warmth to a room without becoming overwhelming. For more personality, however, an accent wall can be painted in a bold primary color, so the entire space isn't blanketed with something too bright while the kitchen also doesn't become dull and drab.
9. Gorgeous flooring
A kitchen floor needs to be very durable so it can resist foot traffic, food spills, and high levels of heat and humidity. Vinyl and linoleum have been two popular choices for kitchen flooring because of the durability of these materials, but today's kitchen trends include materials that are strong and resistant to stains while being much more attractive than simple tiles.
Granite, marble, and timber-look tiles are hot trends in kitchens today, as stone is very durable and resistant to heat and humidity. Properly sealed stone and clay tiles can also resist spills and other dirt and debris, while laminate tiles offer a wide range of looks along with lots of durability and strength.
10. Open shelving
Open shelving became popular for kitchens a few years back, and this trend isn't going away anytime soon! While too much open shelving can make a kitchen seem cluttered and busy, a lack of open shelving can also make a kitchen seem boxy and downright claustrophobic.
To make open shelving work in your kitchen, choose a shelf design that matches the style of your home and add it in just one key area of the space, such as the spots flanking the sink. Store your best dinnerware, glassware, or serving dishes on these shelves, and ensure they're always clean and organized. Your kitchen will then look welcoming and open with lots of visual interest in the space.
11. Something retro
A mid-century kitchen style can be a bit overwhelming, but one retro piece in your space can add some vintage style and a sense of nostalgia. A retro piece might include a table and chairs set, a few barstools at the island, or one appliance in a mid-century design.
Be sure to choose your retro piece carefully. Opt for a fun color but ensure it won't be overwhelming, and that it will coordinate with the other colors in the kitchen. For example, if you have a white kitchen with oil-rubbed bronze hardware, avoid something green or blue, as this might clash with the bronze pieces. If there is a green color running through the tiles of the backsplash, choose an apple green tabletop for your dinette set.
12. Statement lighting
If you use your kitchen for entertaining or spend many hours every day in that space, you want a statement lighting piece! Kitchen lighting needs to be very easy to clean as these pieces will collect airborne grease and other such grime, but oversize metal chandeliers or track lighting are great options for any kitchen.
Pendant lighting is also trendy for kitchens, but today's trends for pendants include oversized drums, lanterns, or glass globes. Industrial lighting is also a prevalent trend, as it tones down an earthy or traditional kitchen. Consider metal domes, bare bulbs, and pipes converted into track lighting for your new kitchen design.