Kitchen Remodeling: Does your home's kitchen desperately need an update, but you're not quite sure how to create a functional yet fabulous space that the whole family will love? While an interior designer or remodeling contractor can offer suggestions for your home's kitchen in particular, check out some of today's best kitchen remodeling ideas, as well as some features and details that will create a kitchen space you'll love for many years to come!
1. Counter-top Materials
Kitchen counter-tops should be very durable and dense so that they can withstand chips, nicks, and scratches. Counter-tops should also look stunning since they take up such a large part of your home's kitchen! Consider some suggestions for kitchen counter-top materials you might discuss with your contractor:
Granite is a classic choice as the material is very durable, and the natural veining and flecks in granite give it lots of visual appeal. A granite surface won't readily absorb spills and stains, although the stone does need to be sealed on a regular basis, typically every year.
Quartz is a soft material that strongly resembles marble and other such stones. However, quartz doesn't need the same maintenance and consistent sealing as high-end stones. Quartz also has natural veining that adds lots of character to the countertops, but be cautious about the colors you choose; brown veining on cream-colored quartz can look dirty or muddy, and veins that are very far apart can make a countertop look outright split or cracked.
Marble is very durable but also costly. This stone is also quite heavy, so be prepared for the added expense of having your home's subfloors strengthened before you have this material installed.
Laminate counter-tops are a type of plastic glued to the counters. Laminate can resemble stone, wood, or any other such material, but at far less cost. However, laminate counter-tops are typically not as durable as stone and have an artificial look that you may not appreciate.
2. New Flooring
Your home's kitchen floor needs to be just as durable as your countertops; after all, the kitchen may be the one room in the house that everyone in the family uses, every single day! Kitchen flooring needs to withstand food stains and spills, be very easy to clean, and feel comfortable underfoot. Note a few ideas for kitchen flooring that you might discuss with your contractor when planning a remodel:
Linoleum tile is a long-standing favorite because linoleum is soft underfoot, easy to clean, and available in a wide variety of styles. Linoleum is also fast and easy to install, making it a very affordable option for any homeowner. However, the adhesive used to apply linoleum tile might come loose over time, especially when exposed to high levels of humidity.
Laminated flooring is a type of photograph installed over the subfloor, with a thin plastic coating applied on top of this graphic. Laminate flooring can resemble hardwood, stone, or any other material, and is very easy to clean, although it does have an artificial look to it that some homeowners don't appreciate.
Stone floors are very durable and can last for decades, but a genuine stone is difficult to install and typically requires the specialty services of a stonecutter. Stone is also very heavy, so your home's subflooring may need added bracing.
While any of these materials can be a good choice for a kitchen floor, be cautious about installing real hardwood in the kitchen. Wood easily absorbs moisture, including the humidity from stovetop cooking, and then tends to cup and bow or chip and crack over the years. Wood also easily absorbs food stains, and the floor might dent if you should drop a heavy pot or dish!
3. Custom Cabinets
Custom cabinets are not just for the rich and famous! Having cabinets made for your kitchen can mean taking advantage of every available square inch of room for storage. Custom designed and installed interior shelving, racks, and hooks allow you to store away all your pantry items and tools easily.
Custom cabinets can also be made to fit your individual needs in the kitchen or outfitted with details that make cooking and food prep easier on you. For example, lower cabinets can come equipped with shelves on rollers that operate with a foot pedal. To access pots and pans or other items in these lower cabinets, you step on the pedal, and the shelf glides out toward you!
Your home's custom cabinets might also include a few open shelves, so the kitchen doesn't look crowded and claustrophobic. Glass inserts in the front of the cabinets can also keep the kitchen from looking dark and dull.
4. Lighting
Dull fluorescent lighting is no longer the norm in a home's kitchen, as many kitchen renovations now include updated and modern track lighting in a variety of metals and materials. Oil-rubbed bronze has a traditional look, whereas stainless steel fixtures offer a more modern look and feel.
Many track lighting fixtures also allow you to adjust each light along the track individually. You can then easily illuminate a cookbook, a surface on which you're prepping food or anything else you need to see clearly in the kitchen. If you don't choose track lighting, consider glass domes that are installed in a long row across the length of the kitchen, for added style in your kitchen.
5. Eco-friendly Options
Many homeowners today are concerned with how their home renovation choices affect the environment. To ensure you're making eco-friendly decisions for your home, note a few suggestions for surface materials you can discuss with your contractor.
Poured concrete may sound unappealing, but concrete can be stained, stamped to look like stone, or buffed to resemble glass. Concrete is made from very sustainable materials, including gravel and sand, and is easy to recycle. Consider poured concrete floors and countertops for your home's kitchen renovation.
Recycled glass can be used to make new glass tiles for countertops and backsplashes. Glass is very hygienic and easy to clean and comes in a wide range of color tones and styles.
Reclaimed wood can be used to make butcher-block countertops. Wood countertops need to be sealed regularly and cleaned with a wood soap in particular. However, if you're willing to give them this little bit of extra attention, butcher-block counters can look stunning for years while also being very eco-friendly.
6. Energy Savings
A kitchen renovation is an excellent opportunity to bring in some energy-saving options for your home. These options might include a dishwasher with many programmable options, so you don't waste energy and water for a lighter load.
A smart refrigerator might offer zone cooling, so you can lower the temperature in areas where you store food that only needs to be slightly chilled. Not only will you keep that food fresh, but you'll use less energy overall!
Double ovens can also be a good choice for saving energy if you opt for one smaller oven. A smaller oven will naturally use less power to maintain a certain temperature, so you can cook smaller dishes in that second oven and save on your electric costs!
LED bulbs also use far less power than fluorescent bulbs. You might also add some canister lights in certain areas of the kitchen and keep them on their own switch, so you can illuminate just one particular spot, as needed, and use less electricity for lighting.
7. For the Kids
If you have kids at home, especially younger children, you might consider some kitchen renovation ideas tailored to a family's needs in particular. These features and details can keep kids safer while also making the kitchen more convenient for everyone in the family! Check out some great ideas to discuss with your contractor:
An induction stovetop doesn't merely radiate heat; instead, the burners on an induction stove use a magnetic charge to transfer heat to certain metal pans. A child reaching for an induction stovetop will not get burned unless there is a hot pan on the stove.
A small section of the kitchen might include a counter at desk height, with plugs for a computer or tablet and a charging station for smartphones. Chalkboard paint can be used on the wall behind the counter so you can write notes and reminders. Your child can then use the space for homework or surfing the internet while you're cooking!
A separate cooler in place of a lower cabinet can hold soda and snacks for children. They can then easily reach those items without having to ask you to get something for them from the refrigerator!
8. Personalized for Your Needs
A kitchen remodel is also an excellent opportunity to bring in custom details and features that work for your needs in particular, making food prep more comfortable for you and everyone else in the kitchen! Consider some personalized features you might include in your kitchen renovation and remodeling plans.
An appliance garage is a specialty cabinet built to hold your small appliances, such as a blender and food processor. You can then keep these items tucked away and out of sight, while still having them close at hand. A vertical appliance garage will have pull-out shelves on hinged arms, as mentioned, so you can pull the shelf within easy reach, rather than trying to remove an appliance from an overhead cabinet.
Recycling is much easier for everyone when you have custom bins built into a kitchen cabinet or closet. A separate recycling closet can also hold specialty bags required by your city, as well as cleaners needed for your recycling bins. You can even have a can crusher attached to the wall or a cabinet door for easier disposal of your aluminum items.
Flat, full-extension drawers are much more shallow than regular drawers and, as the name implies, can be pulled out to their very back edge. You can store your tools and gadgets in these flat drawers without stacking them on top of each other, or use these drawers for plates, platters, and other such items. The longer extension also means being able to easily access and remove items in the back of the drawers.
If you prepare a lot of fresh food, you might appreciate magnetic strips along your kitchen's backsplash. These strips hold the blade end of your knives, so you don't need to take up space on the counter for a knife block. You can also easily see each blade and know which knife to reach for while preparing your food!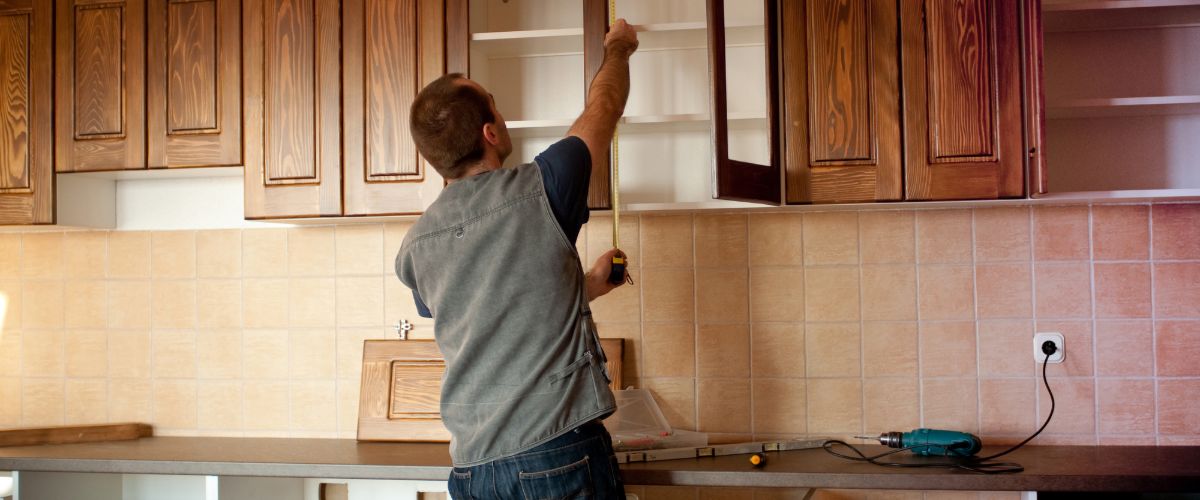 9. If You Love to Entertain
If you love to entertain friends and family in your home, and especially if they join you in the kitchen, you might consider how your renovation or remodeling plans will make entertaining easier or more enjoyable for everyone. For example, you might have a bar sink added to the kitchen island. This smaller sink is very convenient for rinsing off your tools and gadgets, washing your hands, and so on, without having to move things from the island to the kitchen's main sink.
A built-in wine rack in place of a cabinet can keep all your favorite vintages close at hand, without taking up valuable counter space. A pizza oven can also take the place of one of your double ovens, so you can make homemade pizzas that are fresh and delicious!
You might also install a drawer dishwasher in addition to your standard dishwasher. This type of dishwasher is like a large drawer, rather than being the size of a cabinet, and it can even fit in a kitchen island. A drawer dishwasher is suitable for very light loads, so you can quickly wash your barware, blender, gadgets, and tools, and other such pieces without having to clean them by hand or run a cycle in the standard dishwasher just for the few items you need for entertaining.