A kitchen remodeling job is often one of the most expensive projects any homeowner will take on, and new kitchen cabinets usually add quite a bit of cost to that expense. Refinishing a home's current cabinetry is sometimes an option, saving you both time and money. How can you determine if refinishing versus buying new cabinetry is the right option for your home
Refinishing kitchen cabinets is typically more affordable and faster than installing new cabinets, but current cabinets need to be in good condition, and refinishing those cabinets might not offer you the upgraded style or the storage you need in the kitchen.
To help you decide on the best option for your home's cabinetry, note some differences between refinishing and buying new cabinetry, along with some tips for designing a new kitchen and talking to your contractor about the types of cabinets you'll need in the space.
What Is Kitchen Cabinet Refinishing?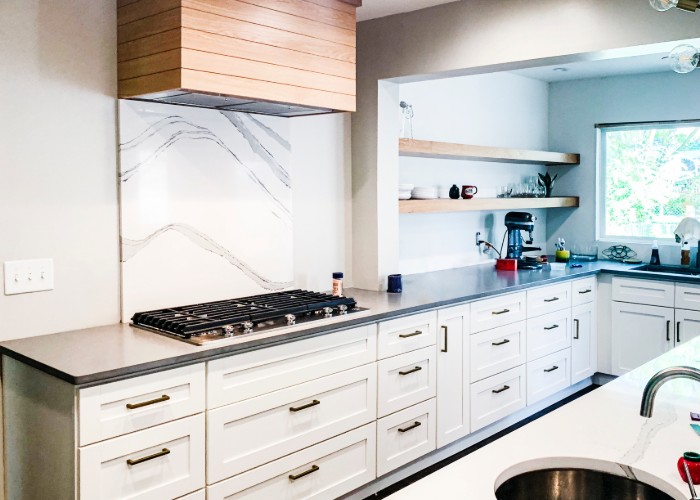 Refinishing cabinetry refers to repainting or otherwise recoating the cabinets and, in some cases, the interior shelving. This process is more involved than many homeowners realize, which is why updating your cabinetry is not necessarily a DIY job! Note what is often involved in refinishing kitchen cabinets completely:
Doors are removed from the cabinets themselves, and all hardware, including handles, knobs, and hinges, are also removed.
The doors and cabinets are cleaned and then sanded down; in some cases, paint stripper is needed to remove old coats of paint.
It's essential to fill in small holes and scratches before adding fresh paint or stain. A contractor might use wood filler or putty, or another similar patching material, to repair cabinets before refinishing. After the putty has set, the patch is sanded so that the exterior of cabinets and their doors are perfectly smooth.
Attaching new hardware, decorative hinges, and other such features can upgrade the look of cabinetry; in turn, you might need to fill in the holes made for the old hardware, and drill new holes for those new pieces and details before the cabinets can be painted or stained.
A primer is often added to cabinets before repainting or staining. This primer will help the paint adhere properly, and prevents cabinets from absorbing grease and humidity from the kitchen.
After cabinets and doors are painted, handles and knobs are replaced, and the doors are re-hung.
While this job might seem somewhat straightforward and you might assume you can learn how to refinish kitchen cabinets easily, note that the process is more difficult and complicated if the door fronts have lots of decorative molding or other such details. Trying to sand down nooks and crannies and the small corners of such moldings can also be difficult, as it applying paint to these areas evenly and thoroughly. Because of all this work, it's often best to leave kitchen cabinet refinishing to the pros!
Can All Kitchen Cabinets Be Refinished?
Not all cabinets are a good candidate for refinishing. Over the years, thick grease and grime can permeate the wood of cabinets and then cannot be removed thoroughly, even with a sander. Older cabinets might also have wood that has softened over the years, making them unsightly and warped, and unable to hold a fresh paint color. Cracked, chipped, or otherwise severely damaged cabinets cannot be repaired with simple wood filler or putty and may need replacement.
Some cheap cabinet materials might also provide a poor base for paint or stain. Laminates and other coatings used to cover thin, inexpensive woods are typically not meant to be repainted. Pressboard materials, made from wood pulp, might absorb paint and leave a spotty, uneven finish. You may not even realize that your cabinets are made from pressboard until you decide to refinish kitchen cabinets, while a contractor will know the best processes for those cabinet materials in particular.
Which Is Better, Store Bought or Custom Cabinetry?
Kitchen cabinetry is typically made to a few particular sizes so that you can buy cabinets from a big box home improvement or supply store, rip out the home's current cabinets, and install those new ones in their place. While this can be an affordable way to replace a kitchen's cabinetry, there are many advantages to having cabinets custom made. Note a few of those advantages here so that you can determine the best choice for your home:
Custom cabinetry can be made to fit your kitchen's space precisely so that even an awkward corner or gap between appliances becomes a hiding spot for added storage.
Built-in appliances with surrounding cabinetry allow for the most accessible storage while cooking or cleaning up. Cabinets surrounding appliances also create a clean, streamlined look in the kitchen.
Choosing custom cabinetry allows you to blend cabinets with open shelving or exposed cabinets, meaning those without front doors, for added eye-catching appeal and drama in the kitchen, and without each cabinet or shelf looking like an afterthought.
If your home has other wood features and furniture pieces, custom cabinets can be stained in the same shade or made with the same timber species, and designed with the same detailing as those pieces. Your kitchen will then look coordinated and cohesive with the rest of the home!
Custom cabinets can include shelving and storage features that suit your needs in particular. You can then store away everything from bulky and awkward countertop appliances to small food envelopes and jars while keeping your kitchen organized yet accessible.
Store-bought cabinets often have a generic, bland look, whereas custom cabinets can include specific details, color tones, and other such features that are different and unique, and which express your personality.
Cabinets made from high-quality materials and to the exacting standards of a custom cabinetmaker might last for many years longer than cheaper cabinets purchased from a big box store. The finish of the cabinets might stay vibrant and true for many years, and you may find that the cabinets don't tend to sag or crack over time, making custom cabinets a better long-term investment.
Tips for Choosing Cabinetry and Finishes
When you are ready to refinish kitchen cabinets or buy new cabinets, note a few tips for selecting the best design and color or finish, so you know you're happy with those cabinets for years to come
When browsing pictures of cabinets in magazines or online, note the details that appeal to you. Do you like the look of certain cabinets because they have clean, simple lines, or are you drawn to cabinet doors with decorative molding and oversized hardware? Focusing on the details that you find attractive will help you decide on the best cabinets for your home.
When choosing cabinets or color tones, be cautious of how they will look in the size of the kitchen you have at home. For example, you might like the warmth of a dark wood shade, but in a small kitchen, overly dark cabinetry can make the space seem like a cave. Simple white cabinets are clean and simple and offer a classic look, but can seem a bit bland when stretched across a very large kitchen.
Consider the color of other surfaces in the kitchen. If the kitchen has dark tile on the floor, dark cabinetry can make the space seem muddy and dull. White cabinets might look out of place next to a quartz countertop in a beige or sandy tone but will help offset a grayish marble counter material.
Cabinetry with lots of detailed molding on the front of the doors can seem very busy next to a mosaic tile kitchen backsplash, whereas plain white cabinetry might look a bit dull installed over a white subway tile. Be sure you consider the backsplash in your kitchen when choosing both cabinetry style and color.
Tips for Upgrading Kitchen Cabinetry
If you decide to refinish your home's kitchen cabinetry, or buy bland cabinets from a big box store and want to add some style and function, consider some tips for improving the look and function of those cabinets, without adding too much to the refinish kitchen cabinets cost:
Swap out the hardware. Oversized hinges, knobs, and handles can add lots of style to a kitchen, whereas simple but stylish hardware can tone down the look of bold, dark cabinets. You can even match this hardware to the kitchen faucet and handles and other metallic features throughout the home for an upscale, designer look.
Two-tone cabinets are also a hot fad these days! This style refers to the upper cabinets being painted or stained a different color than lower cabinets. If you want to try this style when you refinish kitchen cabinets, opt for a darker color for lower cabinets as dark colors seem heavier than lighter shades, and your kitchen will then seem unique and stylish.
When buying new cabinets, choose a design with adjustable interior shelving, so you can move those shelves up and down as needed for your items in particular. When refinishing your current cabinets, remove any fixed interior shelves and replace them with adjustable shelves. You can also add hooks and small canisters or bins to the inside of your cabinet doors, for holding tools and small food packets, as needed.
Replace solid doors with a few glass doors, or remove some doors altogether for an open look. Display your nicest dishware, glassware, and other such items, and be sure you keep those things neat and organized. This option will keep your kitchen from seeming too closed-in and claustrophobic.
Add rope lighting under the upper cabinetry to show off its new color and style, and to add some light on the countertop for food prep, reading recipes, and so on.
Other Tips for Updating a Kitchen on a Budget
If you decide how to refinish kitchen cabinets or to get cabinets from a big box store because you're on a tight budget, note a few other quick tips for adding style and function to your kitchen no matter how limited your funds:
Granite and other stone remnants left over from new slabs used for other projects are often cheaper than original pieces of stone. When shopping around for new counter materials, ask about stone remnants and note if they're more affordable than original stone.
Poured concrete can be buffed and polished to look like glass or stone, and makes for a very durable yet affordable countertop and flooring material. Concrete is also easy to clean, so it's an excellent option for kitchens and especially if you have children or pets, or are otherwise hard on the kitchen floors for any reason.
Some peel-and-stick flooring tiles can be installed right over the kitchen's current flooring. You can then have an entirely new floor with the time and cost of removing existing tiles.
When buying new appliances, check on manufacturer's rebates, sales on discontinued or "last year's" models, and other such options for cost saving.
If you have ceramic appliances in the kitchen that are in good condition but look a bit bland and dull, shop for appliance paint. A fresh coat of paint on the refrigerator and stove, along with new knobs and other hardware, can make these appliances look brand new.
Remember, too, that you'll want some updated lighting and fresh paint color on the wall, to match your new kitchen cabinets. This new color will ensure you have a kitchen that is fresh and clean and looking its best but without going over your home improvement budget!