When it comes to kitchen cabinet refinishing our company does a stellar job at making old and outdated designs come to life. We offer a plethora of kitchen cabinet styles and looks that complement any kitchen scheme. Our fully licensed and insured company takes great pride in offering our customers 100% satisfaction, fair prices, and finishing the job in a reasonable timeframe.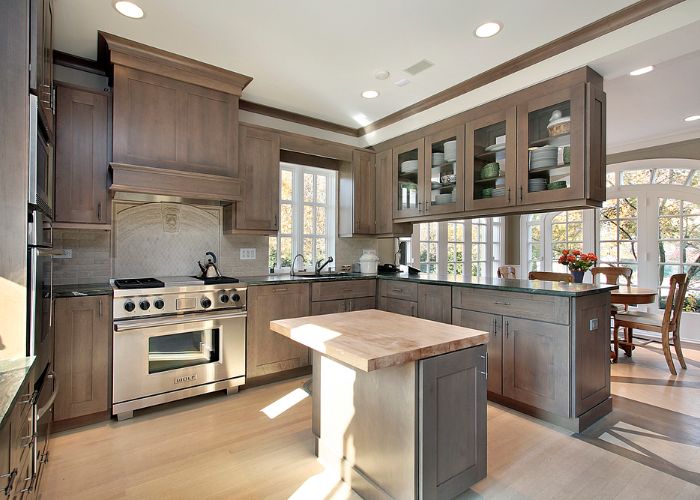 We recently performed a job in Kansas City at an elderly couple's vacation home. The cabinets were definitely strong and made to last but their look was wildly outdated. They were dark paneled wood with golden handles; something that would have been popular in the early eighties. Our contractors sat down with the couple and showed them our design book that showcases the many different kitchen cabinet styles. The couple settled on a modest set of oak cabinets in a blonde finish.
Our team began the job the next week after the cabinets arrived. The first thing that we did was remove the old and outdated cabinet doors. We hauled away all of the old cabinet material at the customer's request. That is a service that we provide to our clients to save the hassle and burden from falling on their shoulders.
Along with replacing the cabinet doors we also updated the hardware. One issue that we ran into was that the hinges of the cabinets seem to be falling apart as soon as we would remove their screws. This resulted in the doors wanting to fall right off instead of coming off easily into our hands. Because of this, we had to have two contractors taking doors off at once to prevent any damages from occurring.
Once the cabinets where off we began the refinishing process by installing the new models and their hardware. The last and final touches were applying the new golden handles that the couple chose. Each kitchen cabinet came with pre-installed handles but this design wasn't what our clients were looking for so they ordered a custom set of handles and we simply swapped them out.
We put the finishing touches on the kitchen cabinets and cleaned up our mess so that the kitchen looked great for our clients. The reveal went just as expected - our clients loved what they saw. In fact, they recommended our services to a few of their friends. It's safe to say that this kitchen cabinet refinishing job was a complete success.