Our team of experienced contractors takes on a lot of custom kitchen remodels in Kansas City. We love to see an old and outdated kitchen transform into something trendy and new. Even if our clients desire a simple, clean look our team can handle the process with flying colors. Truly, there is no job too big or too small for our contractors.
There was this one time that we took on a total custom kitchen remodel in Kansas City that was nothing less than mesmerizing. We took an old kitchen that hadn't been updated since the early 1960s and turned it into a modern masterpiece. It was hard to tear apart such a retro kitchen as it did look very cool but we're in the business of giving our customers what they want and that is exactly what we did.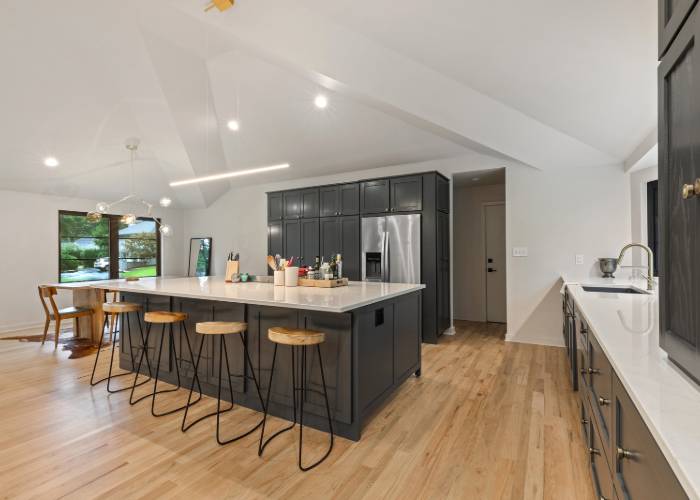 With this particular custom kitchen remodel we basically tore out everything including the flooring and the wallpaper wooden trimming. Our client wanted to keep some of the fixtures in the kitchen to re-sale at an antique shop we were extra careful with those pieces. Our crew even boxed them up for the client.
Our client had a vision for their kitchen and new exactly what they wanted right from the start. Choosing a style and design was very easy and didn't take long at all. We expedited the materials to arrive within 2 days as our client needed this project finished ASAP. In the meantime, we gutted the kitchen.
When the materials arrived we got to work right away. Strangely enough, we noticed a termite problem deep within some of the cabinets. Our client had no idea that this was happening and the rest of the house showed no signs. We tackled this problem straight away by contacting one of our pest control partners. The termite problem was eradicated and the client was assured that it wouldn't be a problem in the future.
We installed the cabinets and backsplash on the same day as well as the countertops. The flooring was installed on the previous day. Once we had the entire custom kitchen remodel complete our crew replaced the appliances for the client. 
The entire remodel turned out amazingly well and we finished ahead of schedule which made our client extremely happy. Despite the termite problem this custom kitchen remodel turned out great! The client commented that in addition to great workmanship our prices were affordable and fair.