Did you know that there are many types of kitchen design styles from which to choose? Knowing more about these style variations ensures you find one you'll love! Also, some styles work better for tight spaces while others are better for spaces with a larger footprint.
Popular types of kitchen design styles include:
Traditional
Contemporary
Modern
Transitional
Farmhouse
Industrial
Cottage
Scandinavian
Mediterranean
Coastal or Nautical
Rustic
Minimalist
If you're not sure the differences between these, keep reading! Some details about each can help you determine the right style for your tastes. Also, you can discuss your options with a kitchen renovation contractor. They can explain these styles in more detail and help you decide the best one for your home.
Types of Kitchen Design Styles
There are numerous kitchen design styles, each with its own unique characteristics, aesthetics, and elements. Check out some added details about the most popular kitchen design styles:
Traditional style kitchens
Traditional kitchens exude timeless elegance. These often feature ornate detailing, rich wood cabinetry, decorative moldings, and classic color palettes. Raised panel cabinet doors, intricate hardware, and formal lighting fixtures are common in traditional kitchens.
A traditional design is excellent if you love added details in your kitchen designs. Also, the rich wood cabinetry is excellent for larger spaces and those with lots of light. However, these details might seem overwhelming in small or dark spaces.
Contemporary style
Contemporary kitchens focus on clean lines, minimalistic design, and a balance between form and function. They often feature sleek surfaces, neutral color palettes, and the use of modern materials. These include stainless steel, glass, and concrete.
A contemporary kitchen is a good choice for those who find traditional kitchens a bit overwhelming. They also offer a clean, hygienic appearance and feeling that works well in kitchens. A contemporary kitchen is also less "cold" than an industrial space.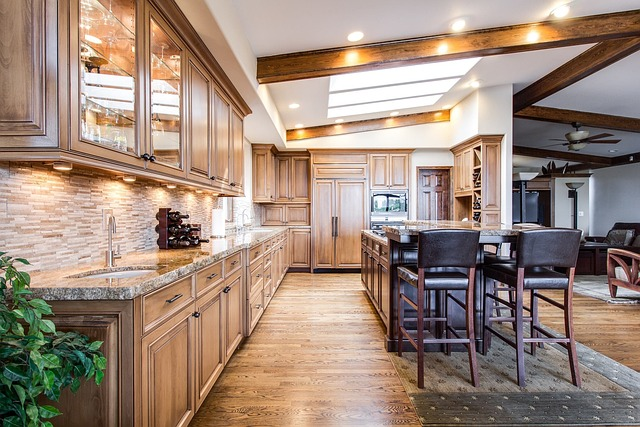 Modern style kitchens
Modern kitchens share similarities with contemporary designs but often have a more defined style. They prioritize simplicity, sleekness, and a lack of excessive ornamentation. Flat-panel cabinet doors, monochromatic color schemes, and innovative design elements are characteristic of modern kitchens.
Transitional blended style
Transitional kitchens blend elements of both traditional and contemporary styles. These strike a balance between comfort and sophistication. This style might incorporate traditional cabinets with modern finishes, and other textures and materials.
Farmhouse style
Farmhouse kitchens embrace a cozy, rustic aesthetic with an emphasis on natural materials. They might also include exposed wood beams and vintage-inspired details. Farmhouse or bib sinks, open shelving, and distressed finishes are common in this style.
Additionally, farmhouse kitchens usually include eat-in spaces and country or rustic décor. Look for chicken wires in places of cabinet doors and dishes on display. Lots of room for homecooked meals and items baked from scratch are also vital in farmhouse kitchens.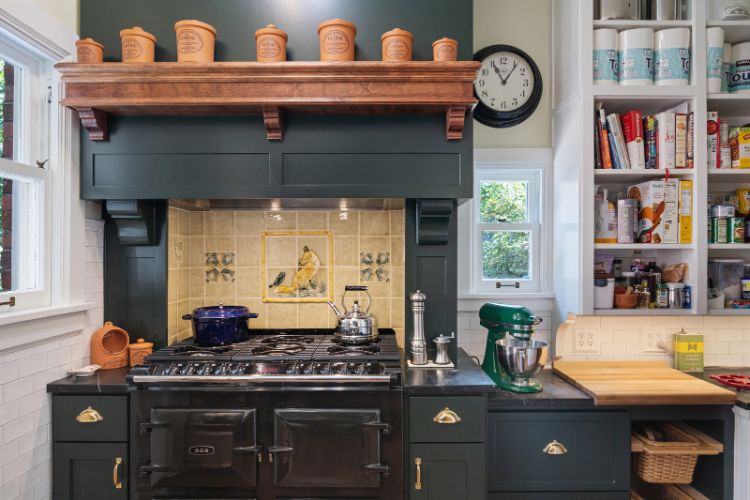 Industrial kitchens
Industrial kitchens draw inspiration from factories and warehouses, featuring raw and utilitarian design elements. Exposed brick walls, metal surfaces, open ductwork, and pendant lighting contribute to the industrial look. You might also see glass backsplashes, poured concrete counters, and metal details in an industrial kitchen.
If you choose an industrial design, exercise caution about the space becoming too cold. You don't want to prepare family meals in a laboratory! Also, a kitchen should always look warm and inviting no matter its design.
Cottage style
Cottage kitchens evoke a charming and cozy ambiance with vintage or country-inspired elements. Light colors, floral patterns, beadboard paneling, and decorative accents are common in cottage kitchens. These also create a welcoming space in smaller homes.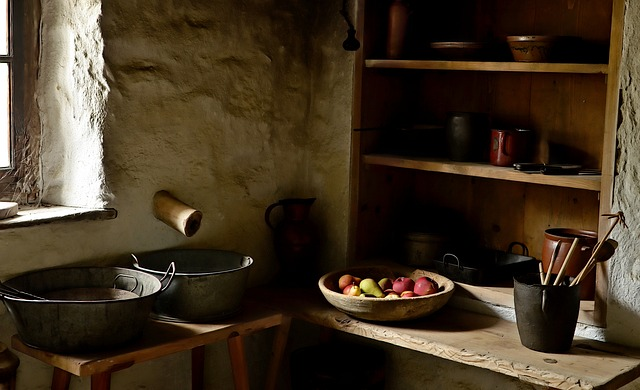 Scandinavian style
Scandinavian kitchens emphasize simplicity, functionality, and natural light. They often incorporate light-colored cabinetry, clean lines, and minimalistic décor. Also, Scandinavian kitchens include an emphasis on functionality and organization. If you don't like a cluttered look but find some designs too cold, a Scandinavian design might be good for you!
Mediterranean-style kitchens
Mediterranean kitchens are characterized by warm colors, textured surfaces, and rustic charm. They often feature ornate tilework, wrought-iron details, and a mix of natural materials like stone and wood. These kitchens are excellent in Mediterranean style homes and if you love old-world charm.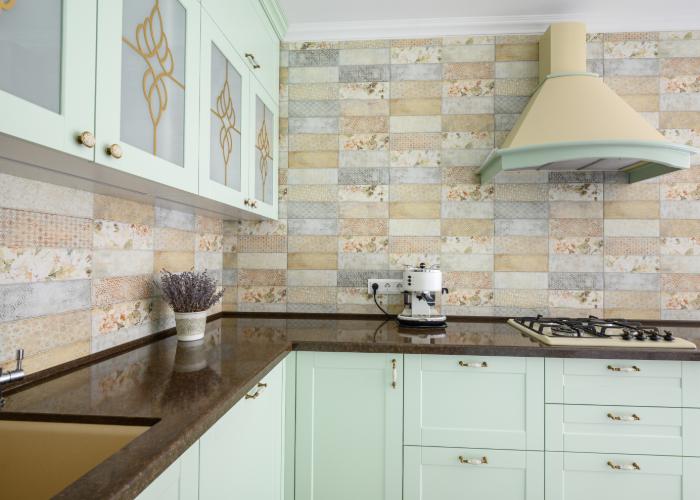 Coastal or Nautical kitchen styles
Coastal kitchens evoke a relaxed seaside atmosphere with light and airy colors, beach-inspired decor, and natural textures. Blue and white color palettes, wicker furniture, and nautical-themed accessories are common in this style. Also, look for cool colors and surfaces including tile or stone floors and tile countertops.
Coastal kitchens are excellent for homes in tropical or warm areas. Their cool colors and surfaces ensure a welcoming, comfortable space. They're also excellent if you find traditional or other designs too "heavy" or imposing.
Rustic kitchen
Rustic kitchens celebrate the beauty of natural materials and textures. They often feature distressed wood cabinetry, exposed beams, stone accents, and a warm, earthy color palette. These designs are a good choice if cottage or farmhouse styles seem to "down to earth" for your taste. However, they keep the space from seeming overly cold or busy.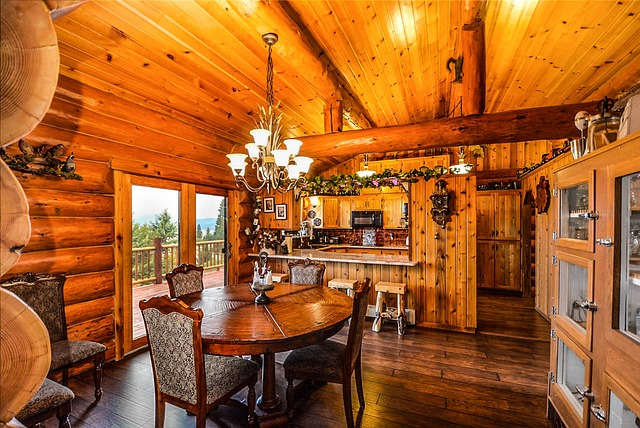 Minimalist style
Minimalist kitchens focus on simplicity, with clean lines, clutter-free surfaces, and a limited color palette. This style emphasizes functionality and uses only essential elements. Many minimalist kitchens feature cabinets without handles and similar touches. However, they will still incorporate some color and materials that keep the space from seeming overly cold and impersonal.
What Are the Different Types of Kitchen Design Layouts?
Along with various designs, kitchens usually feature various layout options from which to choose. Knowing more about these layouts lets you choose the right one for your home. Also, you might better understand why your current kitchen doesn't work for you! The right design but the wrong layout can mean an awkward kitchen space in your home.
Galley Kitchen (Corridor Layout): A galley kitchen has two parallel walls with countertops, cabinets, and appliances. This layout optimizes space efficiency and workflow, making it ideal for smaller kitchens. Traffic flow might be limited in this design.
L-Shaped Kitchen: An L-shaped kitchen has cabinets and appliances along two adjacent walls, forming an L shape. It offers a good balance of workspace and storage, and it's suitable for open concept living areas.
U-Shaped Kitchen: A U-shaped kitchen features cabinets and appliances along three walls, forming a U shape. It offers ample counter space, storage, and efficient work zones. However, it might require a larger area and can feel closed off in smaller rooms.
Island Kitchen: An island kitchen incorporates a central island, which can be used for additional prep space, storage, and as a casual dining area. This layout works well in larger kitchens and open floor plans.
Peninsula Kitchen: Similar to an island kitchen, a peninsula kitchen features an extended countertop or cabinetry attached to a wall, creating an L or U shape. This can serve as a partial room divider while offering additional workspace.
Open Concept Kitchen: This layout involves integrating the kitchen with the living or dining area, creating a seamless and spacious feel. Islands or peninsulas often define the kitchen space while maintaining an open flow.
Kitchen with Dining Nook: Incorporating a dining nook or banquette seating within the kitchen can save space while providing an intimate dining area.
A Word From Our Kitchen Renovation Team
Kansas City Kitchen Remodeling is happy to help explain these types of kitchen design styles. Hopefully we've offered some practical information! Also, call our Kansas City kitchen renovation contractors when you're ready for an update. We offer expert advice and outstanding services at affordable prices.