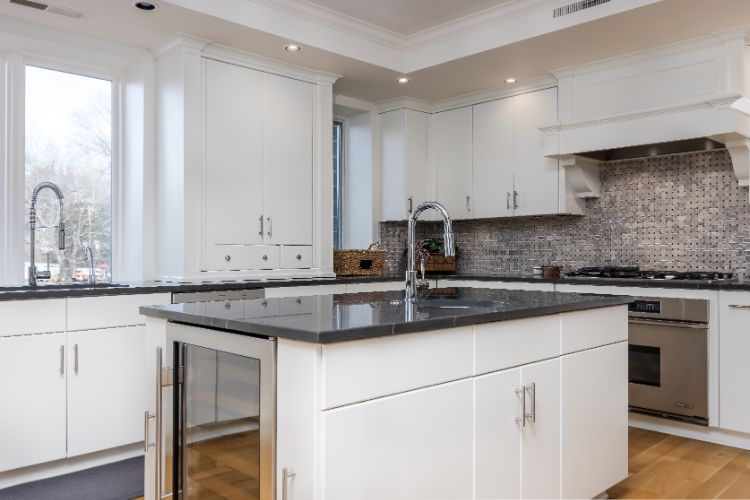 The minimalist Scandinavian design style has become beloved for its simplicity, functionality, and connection to nature. This aesthetic translates seamlessly into Scandinavian kitchens through the use of clean lines, light colors, natural materials, and concealed storage. 
So, what does the Scandinavian minimalist kitchen look like?  A minimalist Scandinavian kitchen features a bright, open layout with light colors, natural wood accents, minimal clutter, and hidden storage for a cozy yet spacious look and feel. 
Let's take a deeper look at how Scandinavian kitchens embody coziness and community with their open, uncluttered spaces bathed in natural light.
With a Minimalist Scandinavian Kitchen, Simplicity is Key
Less is more in a minimalist Scandinavian kitchen. These kitchens feature only the essentials - no clutter on the counters or unnecessary decor. The focus is on simple, high-quality materials and craftsmanship. Form follows function, and everything has a purpose and place.
The minimalist aesthetic provides a calming, spacious feel. By keeping surfaces clear and only displaying key items, the room feels open and airy. This allows you to focus on what matters - enjoying a home-cooked meal with loved ones.
Light and Bright
Scandinavian kitchen design embraces light to create an uplifting, positive mood. Abundant natural light pours into these kitchens from ample windows and skylights. White walls, cabinets, and countertops reflect and amplify the light.
Pops of color come from accessories like dishes, linens, and fresh flowers or plants. But overall, neutral, light color palettes keep the look clean and bright. Common shades include white, beige, gray, and light blues and greens. Darker shades are used sparingly as accents.
The light, monochromatic color scheme makes small spaces appear larger. The minimal look helps open up the kitchen, so it feels expansive yet cozy.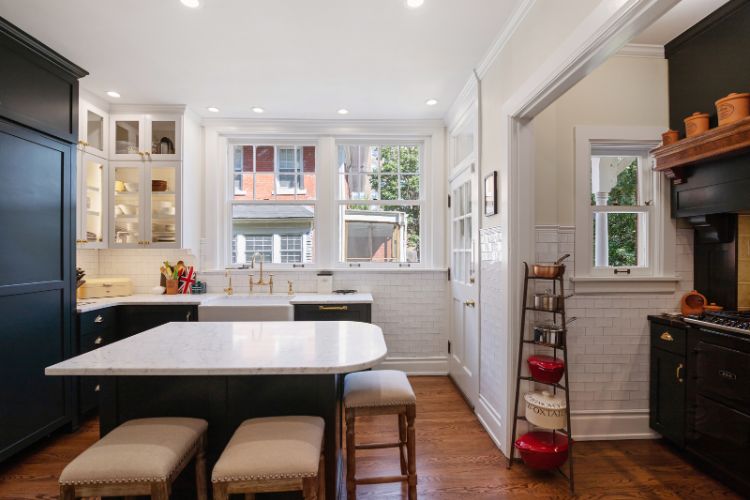 Natural Materials
Natural, untreated wood, stone, metal, and textiles add warmth and texture to Scandinavian kitchens. Common materials include:
Light wood cabinetry, counters, floors, and backsplashes in oak, ash, acacia, birch, or pine
Marble, granite, slate, travertine or limestone counters and backsplashes
Stainless steel and aluminum appliances and fixtures
Cotton, wool, jute, linen curtains, and dish towels
The matte finishes, and light wood grains keep the look subdued. Handcrafted pottery, woven baskets, and fresh flowers add organic touches. The natural elements ground the minimalism with a sense of welcome.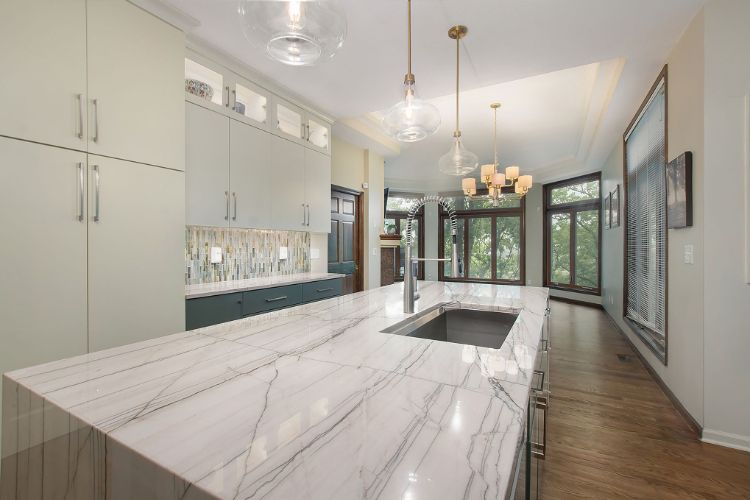 Hidden Storage
While surfaces remain clear, Scandinavian kitchens often conceal extensive storage. This keeps necessities within reach but out of sight. Common hidden storage elements include:
Drawers and cabinetry with integrated handles
Doors that open by pressing on the cabinets
Appliances concealed within cabinetry
Wall-mounted pot racks and utensil rails
Sliding doors hiding pantries and closets
Open shelving styled with baskets
The hidden storage contributes to the clean, uncluttered aesthetic. Only the essentials are left out on the counters.
Multi-Functional Pieces
In a minimalist kitchen, every piece pulls its weight by serving more than one function. Multi-functional furnishings to look for include:
Island carts with storage, seating, and an eat-in counter
Banquettes or built-in benches with storage underneath
Cafe tables that can be folded down or pushed against the wall
Countertops that can convert into dining tables
Footstools that open into seating
Floating shelves rather than upper cabinets
This smart use of space allows for a variety of activities while minimizing clutter. Each piece transitions between different needs.
Uncluttered Organization Solutions
While clutter is minimized, kitchen tools and pantry items need a proper home. Scandinavian kitchens take an orderly approach to organization using these strategies:
Peg rails to hang frequently used pans and utensils
Magnetic strips for knives and small tools
Trays and baskets to corral items like spices and baking supplies
Glass jars for visible pantry storage
Backsplash shelving for oils and cooking tools
Drawers organized using dividers
Cabinet doors with mesh panels
Everything has a designated spot to keep necessities accessible but out of sight. This keeps surfaces tidy and makes cleaning a breeze.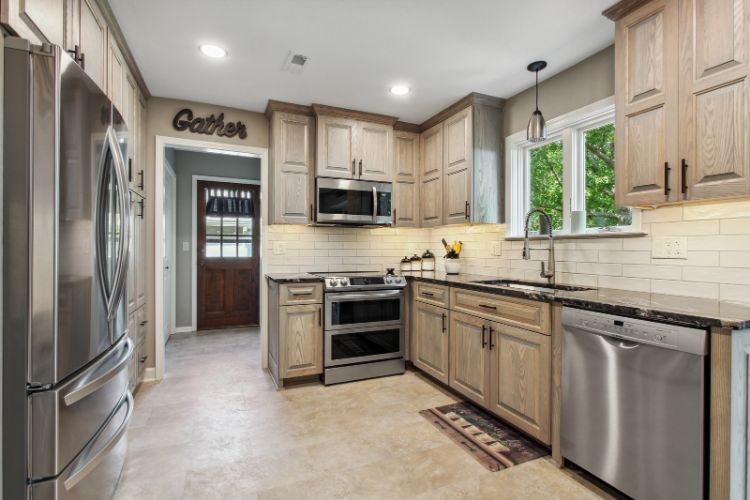 Inviting Dining Space
Rather than separating the kitchen and dining spaces, Scandinavian style encourages togetherness through open-concept gathering areas. Minimalist dining spaces might include:
An extendable wood table surrounded by striped upholstered chairs
A round pedestal table with backless stools
Window counters with bar stools
A wooden bench and cafe chairs
The dining nook is streamlined yet cozy. Neutral colors allow bolder accents like patterned pillows, tableware, and fresh florals to shine. The inviting space sets the stage for meaningful conversations and connections over delicious, home-cooked meals.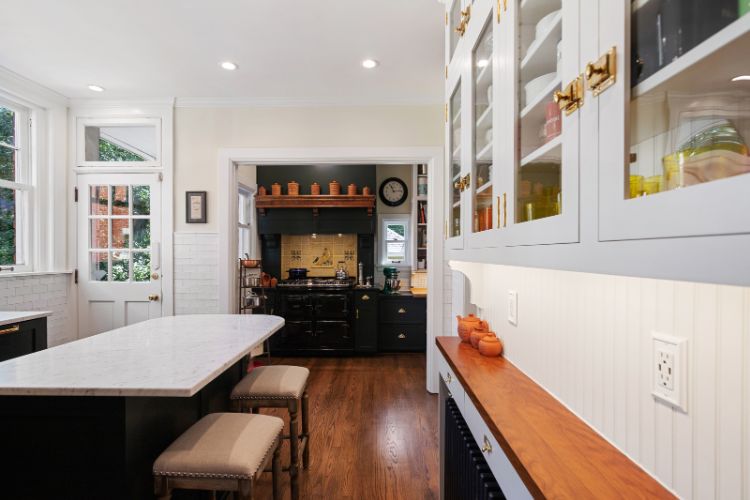 Wrapping Things Up
The minimalist Scandinavian kitchen evokes calm through open, light-filled spaces and purposeful, uncluttered design. Simple natural materials and clean lines allow this style to feel simultaneously soothing and welcoming. Every element works together to create an organic, functional environment tailored towards bringing people together.
About Kansas City Kitchen Remodeling
Kansas City Kitchen Remodeling creates breathtaking, functional kitchen spaces through our meticulous craftsmanship and keen attention to detail. Family-owned and operated, we seamlessly transform each kitchen to match our client's unique style and needs. Our hands-on approach and use of high-quality materials result in stunning kitchens our clients will love hosting loved ones in for years to come. Let us re-envision your kitchen into a warm, welcoming space for gathering around home-cooked meals. To schedule an appointment, please call (816) 307-2007.
FAQs
What is the difference between Scandinavian and Nordic style?
Scandinavian and Nordic designs share similarities but have some key differences. Scandinavian style originates specifically from Denmark, Norway, and Sweden and emphasizes minimalism, functionality, and natural materials. Nordic style encompasses influences from the broader Nordic countries, including Finland, Iceland, and the Faroe Islands. While Nordic design also utilizes simplicity and natural elements, it incorporates more colors, patterns, and textures than the pared-down Scandinavian look. Overall, Nordic style is a more broad term that includes Scandinavian influences as well as additional Northern European elements.
What color is a Scandi kitchen?
Scandinavian kitchens embrace light, neutral color palettes such as white, gray, beige, and light blues and greens. Pops of color come from accessories and decor rather than paint colors or cabinetry, keeping the overall look bright, airy, and minimalistic.
Is Ikea Nordic style?
IKEA pulls inspiration from classic Scandinavian and Nordic designs in many of its furniture and home collections. With the use of minimalist lines, light woods, and functionality, many IKEA pieces evoke a modern Nordic aesthetic. However, as a global furniture company, IKEA incorporates a range of styles beyond just Scandinavian and Nordic influences.
What is the difference between Scandinavian and Bohemian style?
Scandinavian and Bohemian styles have some significant differences despite both being considered light and airy. Scandinavian design focuses on minimalism, neutral colors, and functionality, while Bohemian style embraces bold patterns, rich textures, and eclectic furnishings. Where Scandinavian style uses clean lines and negative space, Bohemian decor is layered and filled with accessories. Bohemian style also utilizes more color variation compared to the neutral, monochromatic Scandinavian palette. Overall, Scandinavian style aims for simplistic tranquility, while Bohemian style seeks an earthy, adventurous look.