Is a waterfall kitchen island worth it for homes today? A waterfall island offers a stunning appearance and updated look for any space. However, it can also cost several hundred dollars more than a standard island!
Waterfalls are excellent for adding visual interest to the kitchen and for showing off stunning tile. Also, a waterfall kitchen island offers extra appeal when it's time to sell. Additionally, that appeal is not likely to diminish over time!
To better understand if a waterfall kitchen island is worth it, you might note some added information about this design. Moreover, reviewing their pros and cons can help you make a good decision for your space.
Lastly, remember to call a kitchen renovation contractor near you for any island or kitchen countertop installation plans. Their services ensure a stunning finish and quality work that lasts.
Is a Waterfall Kitchen Island Worth It?
To better understand if a waterfall kitchen island is worth the cost, it's good to review what the term means! A waterfall refers to running the island countertop material vertically down its sides. The material cascades down those sides to the floor, creating a "waterfall" effect.
Also, that material can create an island itself. A contractor will assemble solid pieces to create an island without cabinetry underneath. The piece then resembles a tall table while serving as a kitchen island.
Benefits of a waterfall kitchen island
First, consider some benefits of a waterfall kitchen island. You can then compare these advantages to your own space.
A waterfall hides kitchen island edges. This is an excellent choice for homeowners who prefer a "clean" or consistent look in their kitchen.
Waterfalls are a great way to show off stunning tiles! If you've invested in a particular design or high-end materials like marble, consider a waterfall. This ensures those materials get noticed and command attention.
If the kitchen island is the first thing you notice in the space, consider a waterfall! Those sides offer a more substantial look than plain island sides.
Tile and other countertop materials are often easier to clean than wood cabinetry. In turn, you might consider a waterfall in a home with kids or pets. You can then easily sponge off food debris and other stains with ease.
Disadvantages of waterfall countertops
While kitchen island waterfall countertops offer many advantages, they're not for everyone. First, note that adding countertop material down island sides adds to its cost! Second, waterfalls might seem a bit overwhelming in smaller spaces.
Also, using busy countertop materials for a waterfall can make the space seem too busy or cluttered. Additionally, not all contractors offer expert waterfall installation. The expertise needed can reduce the number of contractors you can work with for kitchen renovations.
Moreover, it's good to reconsider waterfalls if there's a risk of damage to those materials. Repairing cracked tile is often far more expensive than damaged wood cabinetry! Also, you might not be able to find replacement materials for a waterfall as easily.
Lastly, note that you typically cannot use waterfall sides for seating. The waterfall creates a solid wall next to the island, versus a lip or edge. This style makes it virtually impossible to set up barstools around those sides of the island.
Does a Waterfall Island Add Value?
Only a real estate agent or property appraiser can tell you if a waterfall will add value to your home. He or she can review comparable properties and note their style. Also, real estate agents "have their finger on the pulse" of buyers. In other words, they know what buyers want and are willing to pay for in your area!
This also means that real estate agents can tell you if island waterfalls aren't necessarily appreciated by buyers. In those cases, a waterfall might not add value to your home. However, this doesn't mean they're not a good investment!
For example, a waterfall might hide an outdated island or worn-out materials. It can also make a smaller or less attractive space seem more visually appealing. Tile running down an island's sides can also provide a pop of color in the space.
Lastly, consider if your kitchen needs an update to appeal to buyers. Note that a kitchen island waterfall might be cheaper than other options such as new cabinetry. In those cases, the waterfall can be well worth the investment!
Best Types of Countertop Material for a Waterfall Island
When designing a waterfall edge island for your kitchen, choosing the right countertop material is key. Waterfall islands make a dramatic statement, with the countertop appearing to flow seamlessly down to the floor on one or more sides. But you'll need a countertop that's durable, water-resistant, and stylish.
Natural stones like granite and quartzite can be perfect choices. The natural patterns and colors of granite countertops complement waterfall islands beautifully. Quartzite has a more crystalline look and comes in light shades like white and gray that pop against cabinetry. Both stones resist scratches, stains, and water damage.
For a more modern vibe, poured concrete for your waterfall countertop edge work too, with their smooth finish and neutral tones. Just be aware concrete requires diligent sealing. Ultimately the material you select comes down to your design vision, lifestyle, and budget. But opting for a quality natural stone or concrete will ensure your waterfall island holds up and looks amazing.
Is a Waterfall Countertop and Island Outdated?
Many homeowners find waterfall countertops and islands timeless so that they never go outdated. However, if you're considering adding a waterfall, you might consider a few simple tips. These can ensure that your waterfall doesn't seem dated anytime soon!
Choose a classic tile or other material in a neutral color and design for your waterfall. These might include marble or white subway tiles. Avoid bold, brash colors that might get overwhelming before long.
Always opt for easy-to-clean materials in the kitchen. Potential homebuyers appreciate kitchens that need the least maintenance possible. In turn, you might choose solid stone versus tiles with lots of surface pits and pores.
Don't overspend on kitchen island waterfall countertops. Remember that you're not likely to get back your full cost in terms of increased property values! Also, not every homebuyer appreciates high-end materials so much that they'll reimburse you those costs.
If you do build a new island in your kitchen, ensure it's not oversized or undersized. One that seems out of place in a kitchen will look dated before too long.
Above all, don't hesitate to speak to a kitchen renovation contractor near you for added advice on waterfalls. These experts often know what homeowners in the area look for when it comes to updates. In turn, they can advise on the best waterfall material and style for your home.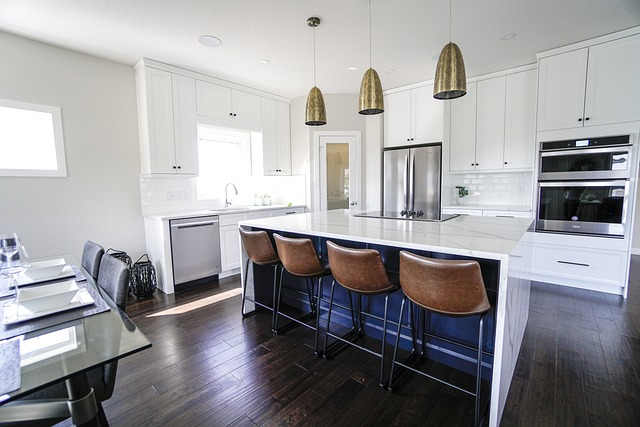 Should Every Kitchen Have an Island?
If you're planning a renovation, you might wonder if it's worth adding or keeping a kitchen island itself, with or without a waterfall! There is no "one size fits all" answer about kitchen islands. However, note that they offer added space for food prep and even dining. Also, islands with cabinetry underneath provide added storage.
Additionally, an island can break up the look of an oversized, open kitchen. Rather than having wasted space or an empty floor, an island can make the kitchen seem more proportionate to the home. They can also help block the view of dirty dishes on the counter and other unsightly messes!
Despite their many advantages, not every kitchen needs an island. For example, an island might make a small space feel even more crowded. Also, consider if an island might block your path to certain appliances. You don't want to walk around it every time you need to go from the sink to the refrigerator, for example.
A Word From Our Team
Kansas City Kitchen Remodeling is happy to discuss the question, is a waterfall kitchen island worth it? Hopefully, we've given you lots of useful information to consider. Also, if you're in the area, don't hesitate to contact our KC kitchen remodeling contractors. We provide a wide range of services at prices you'll love. For more information, reach out today.