A kitchen remodeling cost in Kansas City might seem a bit pricey for some homeowners, but a new kitchen is well worth that investment! An updated kitchen offers lots of advantages for homeowners including accessible storage and room for entertaining, and a large percent of that cost is often recouped in terms of increased property values.
If you're hesitant about a kitchen remodel, consider what you might expect by way of hidden fees and unexpected costs. You might also note how to keep them to a minimum or avoid them altogether, and so you can enjoy a new kitchen for the lowest price possible.
Common Hidden Fees in Your Kitchen Remodeling Cost Kansas City
Probably the most common unexpected kitchen remodeling cost in Kansas City is repair for structural and otherwise unexpected damage. These needed fixes aren't necessarily a "hidden" fee, as your contractor might not find that damage until he or she starts pulling up flooring or tearing down walls!
However, it's often impossible for a contractor to determine in advance how much structural damage your home suffers and your overall repair costs. Many contractors will even recommend that homeowners set aside 5% to 10% of their renovation budget for potential repairs, so there is less risk of having to make changes to your chosen materials and other such details in order to accommodate those needed fixes.
New wiring and plumbing fixtures, or needing to relocate those fixtures during a remodel, can also mean unexpected fees. As with structural damage, a contractor might not realize that a home's plumbing pipes are corroded or wires need replacing, or that there are wires and pipes in the way of your plans, until they start removing flooring and walls.
Overlooked Costs for Kitchen Remodeling in Kansas City
In addition to unexpected costs you might face once a remodel begins, there are some overlooked costs that homeowners should consider when scheduling a renovation. For example, even if you set up a temporary kitchen with a microwave, coffeemaker, and other small appliances, you might eat out often during a kitchen renovation! Even fast food meals are more expensive than cooking at home, adding to your renovation costs.
Pets can also mean unexpected costs during a kitchen renovation! If your dogs or cats can't stay outside, they might get overly skittish or upset about noise, vibrations, and strangers. Some homeowners find that they need to board their pets or pay for "doggie daycare" during a renovation.
The same can be true for your children! Young children should never be underfoot during a renovation. If your child cannot stay away from the renovation area as needed, you might need to pay for childcare or spend more afternoons at the movies and elsewhere during the project.
Changing Your Plans Can Add to Kitchen Remodeling Costs in Kansas City
Homeowners often don't realize that changing their plans, even slightly, can add to their Kansas City kitchen remodeling costs! Cabinets of the same style but a different stain color, different floor tiles or wall paint colors, and other seemingly minor details can increase your overall costs.
Changes that require added labor are typically the most costly! For example, if you want to change the location of a certain appliance, your contractor will usually need to rework the home's plumbing or electrical wiring. He or she might also need to brace the subflooring, to support that weight. This added labor means increased renovation costs.
How to Save On Your Kitchen Renovation Costs
Some kitchen renovation costs can't be avoided no matter what, but homeowners can often reduce those costs with a few simple tips. For example, look for generic cabinets at a big box store, and then add personalized style with decorative hardware. This is often cheaper than custom cabinets.
Managing some minor demolition or finishing work yourself can reduce kitchen renovation costs. Keeping appliances in their current location also means not facing costs involved with relocating them. New appliances of approximately the same size can also mean less risk of needing new wiring and plumbing fixtures to accommodate.
You might also ask your contractor about closeout sales, manufacturer rebates, and other ways of lowering your costs. Homeowners are often surprised at how willing their contractor is to work with them when it comes to keeping kitchen renovation costs low, and the suggestions they have for managing those costs.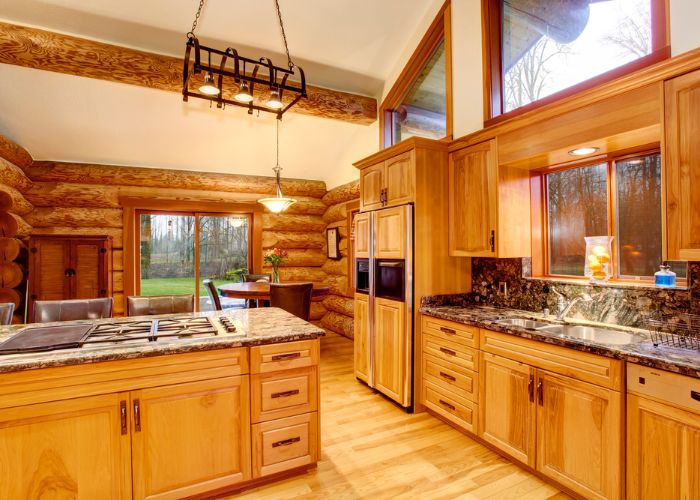 Kansas City Kitchen Remodeling is happy to provide this information about hidden fees in your kitchen remodeling costs in Kansas City, and hopefully you found it helpful! When you're ready to add value and style to your home, call our Kansas City kitchen renovation contractors. We offer personalized plans at an affordable price. To find out more, call today.