If you're interested in growing your home's value, you might wonder if it's worth it to remodel a kitchen. While a kitchen renovation might offer a functional, attractive space you love, not every home remodel project increases property values!
Per House Beautiful magazine, most homeowners can expect to recoup anywhere from 50% to 77% or more on a kitchen renovation. Depending on the condition of your home's current kitchen and materials chosen, it is typically worth it to remodel a kitchen and can be one of the best choices for growing your home's value.
While it's often safe to assume your home's value will increase after a kitchen remodel, that increase will depend on changes made and materials chosen for your renovation. Some materials might even detract from your renovation and not provide the return you expect!
To ensure you make the best decisions for your home and see its value grow as much as possible, note some tips for your choice of materials, a new layout, appliances, and other such details. You can then discuss your options with a kitchen renovation contractor as needed, to ensure you end up with a kitchen you love and that also enhances your home's value.
Does Upgrading a Kitchen Increase Home Values?
Remember that your home's value is based on what you might expect someone to pay for that house if you were to put it on the market. The best way to ensure your kitchen renovation increases home values is to choose materials, appliances, and a layout that all appeal to a wide number of buyers. Check out some details about what this means and how to ensure your kitchen upgrade increases home values:
Choose surface materials that are neutral and which appeal to a wide range of homebuyers. For example, a busy tile countertop might appeal to you but not most buyers; according to Dave Ramsey, some 55% of home buyers said they would pay more for granite countertops!

 Keep surfaces neutral so they appeal to more buyers and help increase your home's salability and value.

The more durable the materials are chosen, the less wear and tear they show and less often they'll need replacing over the years. Buyers appreciate that durability and will pay more for materials that stand the test of time. Solid stone surfaces and high-quality vinyl tile, for example, are appreciated by buyers since these last far longer than low-end laminate.

Buyers often appreciate a bright kitchen that looks clean and inviting. To create a brighter space, invest in upgraded overhead lighting and avoid too many overly dark colors, especially in smaller kitchens.

Storage is always needed in kitchens, so work with your renovation contractor as needed to add roomy, accessible storage. Consider a walk-in pantry, ceiling height upper cabinets, and built-in organizing features such as hooks and adjustable shelving.

Kitchens use up quite a bit of power for operating all those appliances, so invest in an energy-efficient stove, refrigerator, and dishwasher. Use caution about upgraded appliances that might offer lots of unnecessary features that use tremendous amounts of power.

Consider small touches that add lots of convenience in the kitchen, such as added wall outlets, lighting under the upper cabinets, and soft close doors and drawers.
What Is the Most Expensive Part of a Kitchen Remodel?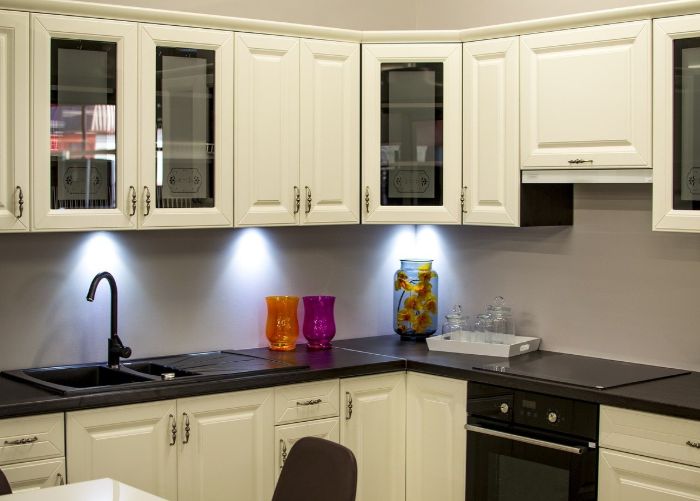 Knowing the most expensive part of a kitchen remodel can help you budget and, if necessary, reconsider your choices.
Cabinets are often the most expensive part of a kitchen remodel, averaging around $15,000 or more for full-scale cabinet replacements.

New appliances often run just over $8,000.

New countertops might average around $6,000.
Note, too, that specialty services such as new electrical and plumbing installations will also add to your costs significantly. Your kitchen renovation contractor can note if your plans will require new wiring, upgraded plumbing, rerouting the electrical or plumbing, and so on.
Is Kitchen Remodeling Worth It
Whether or not it's worth upgrading a kitchen before selling depends on the current kitchen space. To decide if you should upgrade before selling, keep in mind that you are not likely to recoup your entire kitchen renovation costs in terms of increased home values. So, spending $60,000 for a new kitchen on a home you're about to sell is typically a poor idea, as you might only recoup $30,000 to $40,000 from those upgrades.
However, if your home's kitchen is very outdated, and especially if surfaces are damaged and downright unsafe, potential buyers might overlook your home completely. A renovation of just a few thousand dollars worth of changes can mean getting potential buyers through the front door and receiving more equitable offers.
Remodeling a Kitchen for $5000
A homeowner can certainly remodel a kitchen for $5000 and even less if you're willing to do most of the work yourself, and do everything possible to keep as many materials rather than replacing them. Consider some suggestions for remodeling a kitchen on the cheap:
If cabinets are in good condition, you don't necessarily need to replace them. Instead, remove all the cabinet doors and drawer fronts and repaint or re-stain them, along with the cabinet fronts. Add upgraded hardware for a fresh new look.

For outdated cabinets that definitely need replacing, save some money by using open shelves in place of at least a few cabinets. Shelves are far cheaper than cabinets and provide a cozy, welcoming feeling in the kitchen.

If you must replace countertops, call around for remnant stone. These are pieces left over from other projects; you might not have the same selection as new stone, but remnants are often far less cost while still offering the high-end look homeowners love!

Shop for peel-and-stick tile for the floor, which means a fast, easy installation without added grout. Inexpensive vinyl is also easier to cut and fabricate than high-end porcelain and ceramic tile.

Don't get taken in by high-end appliance features. Most homeowners won't use more than one or two dishwasher cycles and don't need an oversized refrigerator with zone cooling and all those other "bells and whistles." Stick to the basics and don't overspend on new appliances.

Search online for Habitat for Humanity Restores and other resale shops offering home renovation materials, as you might find lots of used items in excellent condition for a fraction of the cost of new! These stores might also carry closeout and discontinued items that are brand new but far cheaper than cabinetry, appliances, and surface materials sold in stores.
What Is the Cost of an Ikea Kitchen?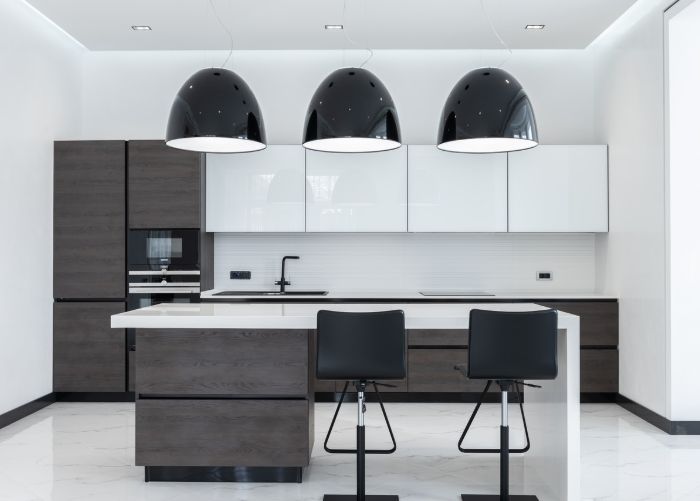 Ikea offers some affordable options for kitchen remodeling, but note that their materials arrive unassembled, and of course, you'll also need to install every piece you purchase! If you're willing to do that work, consider that Ikea cabinets for a standard 10x10 kitchen might cost anywhere from $900 to $2500, depending on your choices.
To better estimate your Ikea kitchen costs, first note that cabinets are often sold by linear foot, meaning their overall width. You can measure your kitchen cabinet widths and how many upper and lower cabinets you need. Once you choose your Ikea cabinets, this will tell you the expected cost of an Ikea kitchen for your home.
Kitchen Renovations: Deciding Where to Save, Where to Spend!
Every homeowner's decision of where to save and where to spend on a kitchen renovation depends on their particular needs in the kitchen. For instance, a vegetarian needs lots of refrigerator space for fresh produce, whereas someone who loves to bake might need an oversized center island and storage for baking pans and tools!
However, if you're looking to add maximum home value then you need to spend on items that attract homebuyers while not splurging on items that might appeal only to you, or that don't add useful function. Note a few specific examples for the top places to save and spend to consider and discuss with a real estate agent or kitchen renovation contractor near you:
Cabinets: Kitchen cabinets are used every day and should be strong enough to withstand all that wear and tear. Cheap pressboard materials might start to warp so that cabinets sag and doors hang open and drawers stick before too long. To ensure your cabinets stay in good condition over the years, opt for high-quality materials but don't overspend on decorative features and details.
Countertops: As with cabinets, kitchen countertops also take a daily beating! While overly expensive marble countertops might not appeal to every homebuyer, never try to cut corners on your kitchen renovation budget by choosing cheap laminate or other low-end materials.

Flooring:

Kitchen flooring also needs to be tough and durable, to withstand daily foot traffic. If you don't have the budget for quality ceramic or porcelain tiles, choose durable vinyl and avoid cheaper, low-quality tiles that might split, crack, or chip before too long.
Kitchen Sink: Old sinks might show lots of scratches and even rust, and a deep single-basin sink does offer more space for washing dishes and food prep. However, potential homebuyers might not be overly impressed with an expensive sink, so consider something more basic and affordable for your budget kitchen remodel.
Lighting: New lighting is often needed in kitchens, to ensure every space is illuminated properly. However, as with a new sink, homebuyers might not be willing to pay extra for a fancy fixture and especially one that's difficult to clean. Stick to something upgraded and attractive but basic and affordable for your kitchen.

Nix Specialty Features:

When renovating a kitchen on a budget, consider carefully specialty features that not everyone will use. For instance, separate mini refrigerators or coolers, a coffee bar, a six-burner stovetop, and an appliance garage aren't always needed by every homeowner and aren't necessarily going to increase your home's value.
Common Mistakes to Avoid When Remodeling a Kitchen
When remodeling a kitchen, certain mistakes can make the space less functional and attractive, which will then mean less return on your investment! You might also notice the space just doesn't work as you expected. Note a few of those common mistakes to avoid when remodeling your kitchen, so you end up with a space you love and see maximum increases in home values.
Flow is EVERYTHING: Never interrupt the kitchen's flow, meaning how easily you can move from one spot to another. Putting an oversized center island between the sink and refrigerator, for example, can mean having to walk around that island every time you need to retrieve something from the fridge! Ensure appliances are placed close together and nothing impedes traffic between them.
ADD Storage for Functionality: Be wary of reducing storage space and this includes room for trash! Kitchens often hold large amounts of waste from throughout the home, including bulky newspapers, materials for recycling, items to donate to charity, etc. Ensure your kitchen remodeling plans include adequate, hidden space for trash and recycling bins to avoid a messy look and clutter in the kitchen.
What's the Ventilation Situation: A kitchen needs lots of ventilation, to remove airborne grease and steam, and excess heat. Ensure you've budgeted enough money and space for adequate vents and fans, especially in kitchens without exterior windows.
Function Over All: When choosing countertop materials, avoid individual tiles and anything "bumpy," as you need solid surfaces for safe food prep! Those beautiful ceramic tiles might look lovely in a catalog but can mean having your cutting boards and other utensils slide out from under when you're cooking.
It's also good to avoid overly trendy details in your kitchen remodel, as today's hot trend is tomorrow's tired space! Stick to neutral colors for cabinets and countertops, and add personality with items you can change easily such as wall paint and hardware. This will ensure your kitchen retains its value over the years.
Why IS a Kitchen Remodel SO Expensive?
Kitchen remodels are expensive because they require labor-intensive work such as tiling and countertop installation, and specialty services such as plumbing and wiring installation. While you might save money doing some kitchen renovation work yourself, call a licensed contractor for anything requiring an inspection.
However, kitchen remodels are WORTH IT! Even a small scale remodel can greatly increase the value of your home when you're ready to sell it.
A Word from Our Kitchen Remodelers
Kansas City Kitchen Remodeling is happy to provide this information to our readers and we hope you found it helpful in determining if it's worth it to remodel a kitchen. If you're ready to increase the value of your home with kitchen remodeling, give us a call! We offer FREE quotes and guarantee satisfaction with every project.